Welcome to the unofficial wiki for Biomes O' Plenty that anyone can edit! We currently have 479 articles and more thanks to all the contributors since January 2013! All users are welcome to edit or post comments as long as it is in compliance with the Guidelines.
NOTE: This wiki is not supported or endorsed by the developers! Information found here may be inaccurate/outdated, and should not be used as reference for issues, bug reports, or any other requests to the developers!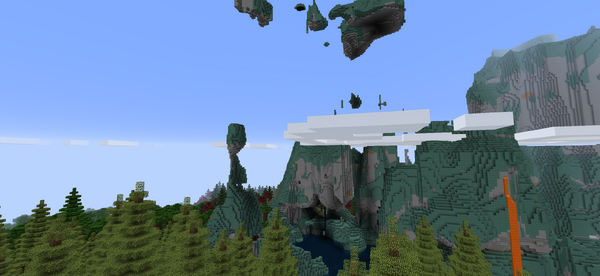 This image should change hourly. Not happening? Purge the main page cache.
About the Mod
Biomes O' Plenty is a Minecraft mod created by Glitchfiend, a collaborative group of a few developers, which adds over 60 new biomes to Minecraft, ranging from a simple Marsh Biome, all the way to the lush and unique Mystic Grove! Many new items are also added alongside these biomes, including many new types of trees, plants, and even a few unique mobs!
The mod was released to the public grums post on September 24th, 2012.
Content
Installation
Download the latest version of the Forge installer from here.
Run the installer and select client/server. Start Minecraft using the Forge profile.
Download Biomes O' Plenty from CurseForge. Place it in the 'mods' folder of .minecraft (if there is none, create one).
Re-launch Minecraft and create a new world with default or the new worldtype, "Biomes O' Plenty".

If you want to run Biomes O' Plenty on an existing world and be able to generate new content/chunks with the mod, you will need to get an NBT editor and edit your level.dat file. Change the generationName from "DEFAULT" to "BIOMESOP". New chunks will be created with the Biomes O' Plenty world generator instead of the Vanilla one. (note: this will only work on worlds where generatorName are in the Level.dat file, not all minecraft versions have the same file formats for all things; this was tested on 1.8 and should be valid for all 1.7.x versions, and probably 1.6.x as well)
This page documents the configuration for Biomes O' Plenty.
Have fun exploring the new landscapes of this Minecraft mod!
News
Click here for blog posts made by all users!
People have been waiting over a year for the Nether Biomes to be readded to Biomes O' Plenty! And they are finally here!
I have reorganised some of the nether biome pages which were left neglected. Fungi Forest (Nether) needs to be created. More images would be greatly appreciated too!
Also, check out Special:Videos to look at some BOP videos which have been added by Alex Bahchevanski!
UPDATE 2 January 19th 2017 - I will give people who make good edits and have 30+ contributions rollback - This allows you to easily revert vandalism.
UPDATE November 23rd 2016 - We still need more contributors, and I need more people to keep a watch over the wiki. If someone edits enough with an account then they will get promoted to rollback or content mod.

Hello!
I've been here for quite awhile now, and I can see that this wikia is starting to revive, the infoboxes and templates are modernised, th…
Hello!
New navboxes have been added! They Look like this:
http://biomesoplenty.wikia.com/wiki/Template:Navbox_Biome
We also need a one for Items and Blocks eventually, and it would be nice if someone adds mini pictures after each biome.
So add them to every biome page!
P.S: Sorry I was inactive throughout April, I was busy and my laptop broke.
Update: Please provide evidence for things that might be coming soon, e.g: if the Pasture returns with rice grass, then you need a source for it.
Useful Pages
Community/Official Links