Not to be confused with Cactus, a vanilla Minecraft block.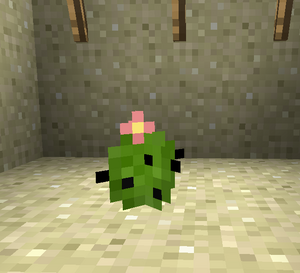 Tiny Cacti are plants that spawn in Desert and Desert-like biomes, such as the Lush Desert, Vanilla Desert, and Mesa (BoP). It can be smelted into Cactus Green via a Furnace. Picking it up doesn't require a pair of Shears.
Tiny Cacti can be smelted into Cactus Green.
Tiny Cacti cannot be placed in a Flower Pot, vanilla Cacti must be used instead.
Tiny Cacti heavily resemble ball cacti, specifically, the pink-flowered Coryphantha genus of cactus.
Community content is available under
CC-BY-SA
unless otherwise noted.